The WNBA defending champion Seattle Storm handed the Connecticut Sun its first loss of the season as the teams battled into overtime with the Storm winning 90-87. Seattle is 4-1 and Connecticut is 5-1.
"We limited their own boards and we outrebounded a team that leads the league in rebounding," said Coach Noelle Quinn. "Another goal of ours was to keep our turnover low, which we did. They scored a lot of points off of them, but I think we really focused on those things today and completed plays. It wasn't always pretty."
Quinn, who was leading the team during the game as head coach Dan Hughes attended his son's graduation, had set a goal with the Storm to get one more rebound than their personal best, to beat the Sun at their own game, and she said overall they did and they stayed focused even during the tough moments.
"What I think at the end of the day is that good teams find ways to win in this league," said Quinn. "And we buckled down, we got some stops, we got some key positions down the stretch that really enabled us to give us a push to hit some big shots and gave us that lift that we needed. And during overtime we fought so hard. I am super proud of everyone for pushing through and just getting this win."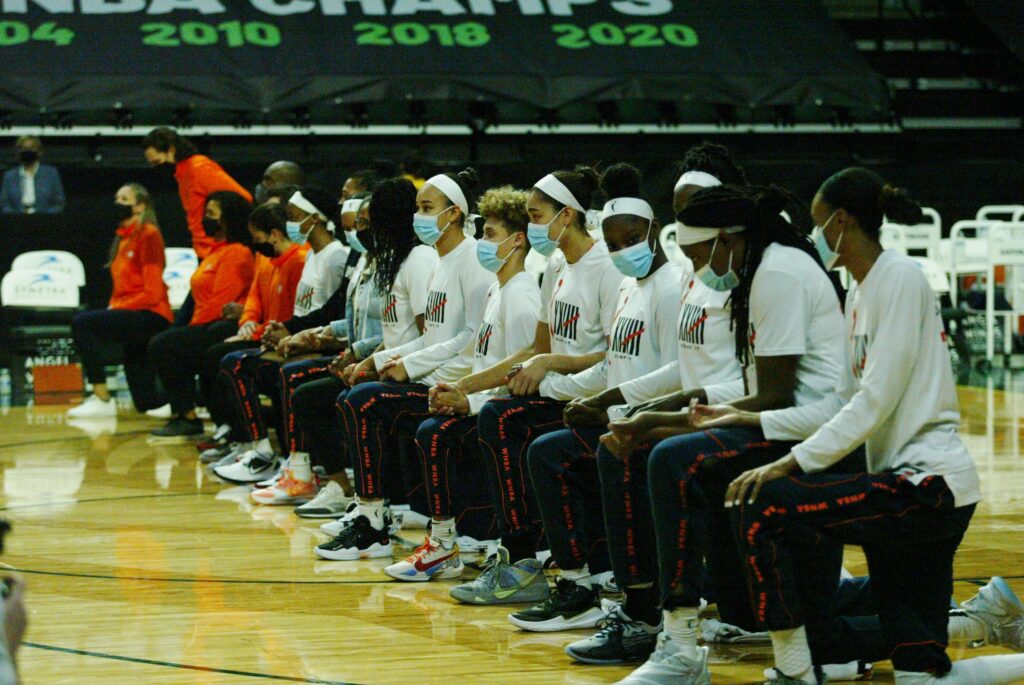 Both teams saw four of their starters hitting double point figures with both center Jonquel Jones of Connecticut and forward Breanna Stewart of the Storm getting double-doubles with Jones 23 points and 12 rebounds and Stewart 14 points and 10 rebounds.
For Stewart it wasn't her best game as she went scoreless through the second quarter and most of the third but she still found ways to help her team.
Storm forward Stephanie Talbot, who was named to the Australian National team for the Olympics about an hour before game time, has been a bright spot since coming onto the team and she said despite the physicality of the Sun that Seattle focused on their own goals.
"Connecticut is a much bigger team," said Talbot. "They like to control the tempo and they like to play their game. I guess we had a few goals tonight, you know, like beating them on the rebounds. They were the top rebounding team in the league, so we were able to get that done and just focus on a few different goals and try not let the physicality get to us."
Seattle led for most of the game outscoring the Sun by six at the half to lead 46-40 but it was Connecticut who outscored the Storm in the next two quarters to send the game into overtime with a 79-79 score.
As the teams came out for the five minute overtime it was Seattle's leader, Bird, who despite having a tough time scoring early in the game set the tone at the start of overtime hitting two three pointers in the first three possessions to give the Storm an early eight point lead.
But as they did all game long the Sun battled and with seconds left they had whittled it down to a three point lead and the potential for another overtime.
But Connecticut made their 13th turnover of the game as the ball slipped past them and out of bounds. Seattle inbounded with 3.9 seconds left and after a late foul put a few ticks on the clock the Storm inbounded once more to end the game and get the win.
For coach Quinn watching Bird take over at a crucial time is nothing new. Having won a championship with Bird and now coaching her it's something almost expected.
"We've seen that time and time again," said Quinn. "I think the resiliency that Sue [Bird] always shows is amazing. Her preparation both physically and mentally is elite. And what you see isn't a surprise because she takes her time and she prepares for these moments. She's been in so many moments and it shouldn't be a surprise that she can come through and deliver at key points in times when we need her to. Sometimes we kind of just look at her and get confident because we know that she knows when it's her time to step up and hit big shots like that."
The Storm will be back at Angel of the Winds Arena when they take on the Minnesota Lynx at 7 pm on Friday, May 28.