The Emmy Award-winning dystopian series The Handmaid's Tale returns for its second season on Wed., April 25, with a 13-episode arc. With MGM Television producing, this Hulu original is based on the classic Margaret Atwood 1985 novel of the same name. Although the chilling reality of life in Gilead is fictional, its totalitarian roots are aligned with present day fundamentalist fears.
The second season picks up with Offred/June's (Elisabeth Moss) pregnancy and her ongoing fight to free her unborn child from the gruesome grip of Gilead. "Gilead is within you," is a common phrase repeatedly used with Aunt Lydia's "girls" and viewers will see firsthand how this reality affects them as they fight for freedoms once resigned.
Serena Joy (Yvonne Strahovski) rediscovers her passion and an empowerment once forgotten. But how will this rebirth affect her relationship with the values of Gilead and her husband, Commander Fred Waterford (Joseph Fiennes)? Struggling to keep Offred safe is the commander's protector, Nick (Max Minghella), who also doubles as the father of Offred's unborn child with the commander.
The sweat, blood and tears are palpable in the Colonies as Janine (Madeline Brewer) works herself to certain death alongside Ofglen/Emily (Alexis Bledel), a college professor who was once married to a woman and was a mother herself before the horrors of Gilead began.
Freedom comes at a cost, but can Moira (Samira Wiley) afford to pay it as she starts over as a refugee in Little America with Luke (O.T. Fagbenle)?
Prior to the show's season two premiere in Hollywood on April 19, Wiley hadn't even seen the new episodes.
"I actually haven't seen any of the episodes—by choice," Wiley said. "It's not often that you get to sit down and watch a streaming television show with an entire audience."
At the end of season one, Moira is last seen walking into a refugee center and being handed a healthcare card, money, kindness, and freedom—but nothing is ever truly free, is it?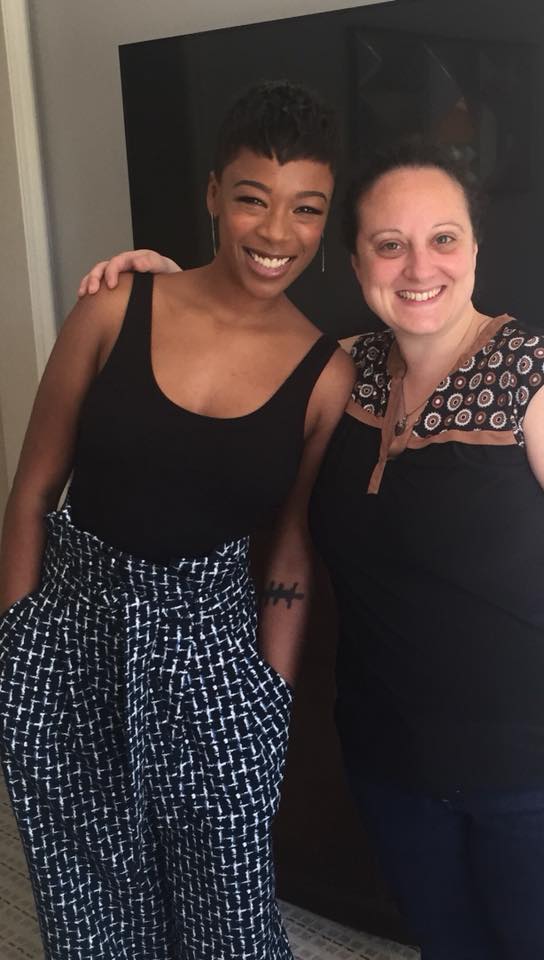 "She's not being raped every day … these are all wonderful things!" Wiley shared. "The life of a refugee is not all wonderful. There's nothing familiar there. There's nothing that she can turn to and say, 'I know that…' The only thing she knows is Gilead. It's like that phrase: 'the devil you know,' you know? She has no community there. She has no friends. She has no family. She has Luke and they're starting to understand how much they need one another and build that familial relationship there. But it's not all roses. It's not easy."
Moira even begins to question her own sexuality after the trauma she endured during her time at the secret brothel/sex club Jezebel's.
"This season is a real question of, 'Who am I?' It's a self-identity question this season for Moira," Wiley said. "There's a scene where there's a question of 'Do I date now? How do I even function? Do I go to bars?' There's no answer and we'll see in a scene where she is actually questioning who she is … at Jezebel's we see her actually take on a new identity—she calls herself Ruby. Does that come back?"
Women in season two of The Handmaid's Tale will begin to understand and reclaim their power, offering viewers a resistance unlike anything seen before on the show. Similar to that of the #metoo movement off-screen, Wiley said the women of Gilead will "start to use their power as a collective."
Wiley credits her wife of one year, Orange Is the New Black writer Lauren Morelli, for helping to keep her feet on the ground off-set—and out of the head of Gilead's reality.
"There are parts of this show that are with me all the time," Wiley said. "Lauren and I are super in love and everything is great—we're happily married and all those wonderful things."
The two worked together on "Orange" when Wiley famously portrayed fan favorite Poussey Washington in the Netflix series. Also on the show was Brewer, who now takes on the challenging task of surviving the wasteland known as the Colonies.
"From above it's just gorgeous rolling hills and cornfields and the sun is setting—it's esthetically beautiful," Brewer said of the Colonies. "Then you put a magnifying glass on it and you see that these women working in the fields are digging up toxic soil and there's smoke billowing up from the ground. These women's skin is coming off and they're losing their hair and their teeth are coming out. They are getting more and more sick. … It's kind of like Gilead. At first you think, 'Oh, what a lovely little community,' but then you take a closer look and you're like, 'Shit! This is terrible!'"
While Janine sees the Colonies "as a second chance," according to Brewer, Emily sees them as hell on earth. Digging a grave to bury your partner can indeed feel that way. So how does Brewer escape the dark content after a day of filming? She removes the eye. "Getting back into my own clothes and feeling my own skin allows me to step away and back into my own life," even on emotionally charged days when it's not as simple as it seems.
The show's second season will begin with an entirely clean slate—Atwood's story only went to the end of season one of the show. Atwood is involved with the series, but ultimately the results of these women's lives are completely up for grabs. How will this end? Fans must start back at the beginning—and they can do that April 25, when the new episodes start streaming.
Find out more about The Handmaid's Tale at www.hulu.com/the-handmaids-tale.