The quirky Netflix dark dramedy The Politician teems with scandalous satisfaction from the moment rich kid Payton Hobart (Ben Platt) invites viewers into his Santa Barbara, California, mansion. Born into a poor family and adopted by Georgina Hobart (Gwyneth Paltrow), literally nothing is as it originally appears. It's worse, actually.
Award-winning television creators Ryan Murphy, Brad Falchuk and Ian Brennan offer audiences impossibility with every episode in the first season—and there's now a second in the works. The trio also serves as executive producers, with Alexis Martin Woodall, Platt and Paltrow joining the ranks.
In addition to the aforementioned megaplayers, Platt and Paltrow are joined on-screen by Jessica Lange, Zoey Deutch, Lucy Boynton, Bob Balaban, David Corenswet, Julia Schlaepfer, Laura Dreyfuss, Theo Germaine, Rahne Jones and Benjamin Barrett.
At first Jones, an out lesbian, didn't think she had the part whatsoever.
"I didn't hear anything for about two weeks after the audition, and then I got a call back and [was asked] to audition in front of Ryan [Murphy], Ian [Brennan] and Brad [Falchuk]. So, no pressure, no pressure," Jones told Windy City Times.
Dreyfuss has previously worked with Murphy on Glee. Prior to The Politician, Dreyfuss starred opposite Platt as Zoe Murphy in the Broadway musical Dear Evan Hansen. The audition process was familiar, but still nerve-wracking for the star.
"I felt like I didn't want to disappoint them and I had so much respect for them," she remembered.
Ultimately, she got the part and the entire show was filmed more than six months before it was available for streaming on Netflix, which meant the actresses had to be tight-lipped about every minute detail, including their on-screen surprise romance.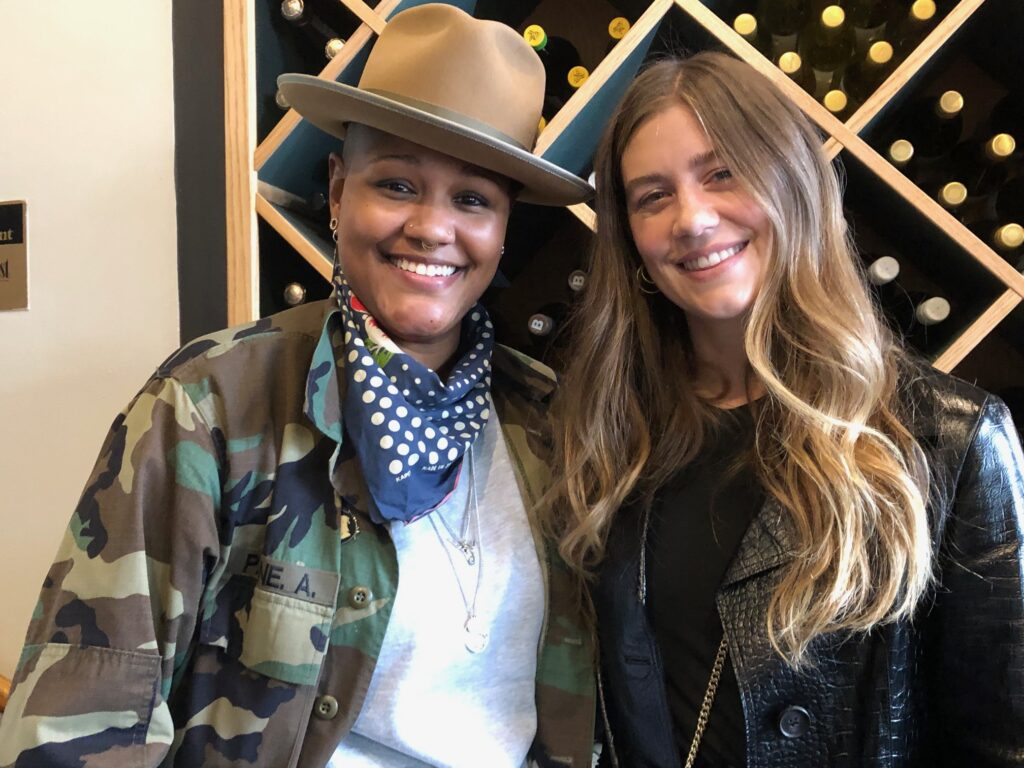 Jones felt a responsibility to portray their relationship in an authentic way.
"As far as someone who looks like me—who's African American and more masculine presenting—I do feel the burden of being a positive representation," she said. "I credit Ian and Brad for writing [my] character because I can only hope that it will continue and people recognize that these stories need to be told."
The characters on the show are multidimensional and dichotomous on many levels, including basic human decency. Additionally, The Politician regularly touches on topics of depression, psychological warfare ( including a high school peer who believes she actually has cancer for most of the season ), and other perplexing perusals.
Dreyfuss dove back into her Dear Evan Hansen days to reconnect with the "heavy" subject matter.
"You always want to handle those things with care," she said. "For me, it was like I was doing Dear Evan Hansen again, where a lot of mental health issues were in the themes of that show. It was really very hard to hear a lot of stories being told and sharing stories. It's also amazing because it's brings people together, but there is a very hyper-awareness of your responsibility within that."
The two actresses prioritized self-care by taking time in between filming the series and its release date on Netflix to find peace of mind. They also consult with therapists regularly.
"You do just have to take care of yourself because if you don't take care of yourself, you can't help anybody else," Dreyfuss said. "We had psychotherapists and psychologists to talk with on the set to color how certain situations should be handled."
The second season of The Politician is gearing up for a July release date on Netflix. The first season is available for streaming now. Learn more about The Politician by visiting Netflix.com.