Summer is right around the corner and with the state set to reopen June 15, barring changes in the COVID pandemic, West Coasters can enjoy a leisurely escape with many things to do in Carmel-by-the-Sea and Monterey.

The health crisis in the Golden State is beginning to ebb due to people getting vaccinated, meaning summer vacations might harken to domestic road trips for the season.

San Francisco Bay Area LGBTQ travelers are most likely going to be among the first to hit the road (if they haven't already) taking in a great California adventure.

Two options are Carmel-by-the-Sea and Monterey. Just a couple of hours south of the Bay Area, these towns offer rugged adventure, luxury escape, and more. The region moved into the orange tier at the beginning of April and See Monterey, the county's visitors bureau, is encouraging safe travel with up-to-date advisories and guidelines.

Individual hotels, tours, tasting rooms, and restaurants are also following pandemic guidelines as the county and state continue to reopen.

"I always love being the host for people to come down to Carmel," said Amanda LeVett, owner of the Vagabond House, the only LGBTQ-owned bed and breakfast that's located in the heart of the charming seaside town.

Amanda, who identifies as queer and nonbinary, and gay general manager Thomas Rogers would love to see more lesbian, gay, bisexual, transgender, queer, and intersex travelers visit Carmel and Monterey.

"I think we need more LGBT travelers in Carmel to shake it up," Amanda, a Carmel native, said, imagining drag queens (and other women) registering their high heels at City Hall, one of the quirky ordinances that remain on the books.

Amanda's father worked side-by-side with the legendary movie star Doris Day at the Cypress Inn and other Carmel Boutique Inns while her mother, an art collector, and Day created the interior designs.

"Carmel is unique," Thomas said. "It is one of those places that everybody wants to experience."

Amanda added, "If you stay in Carmel, it's like this perfect little hub. You've got everything around you."

Thomas believes he and Amanda have achieved appealing to the queer sensibility as well as the digitally connected and eco-friendly needs in the recently renovated rooms, he told the The Settle Lesbian. The rooms are an open layout with minimalist modernist interiors that are in line with the building's history.

Depending on what direction you go in, from Big Sur to Moss Landing, adventure awaits. Wine tasting, dining, and shopping to outdoor activities are all within a 30-minute drive or closer.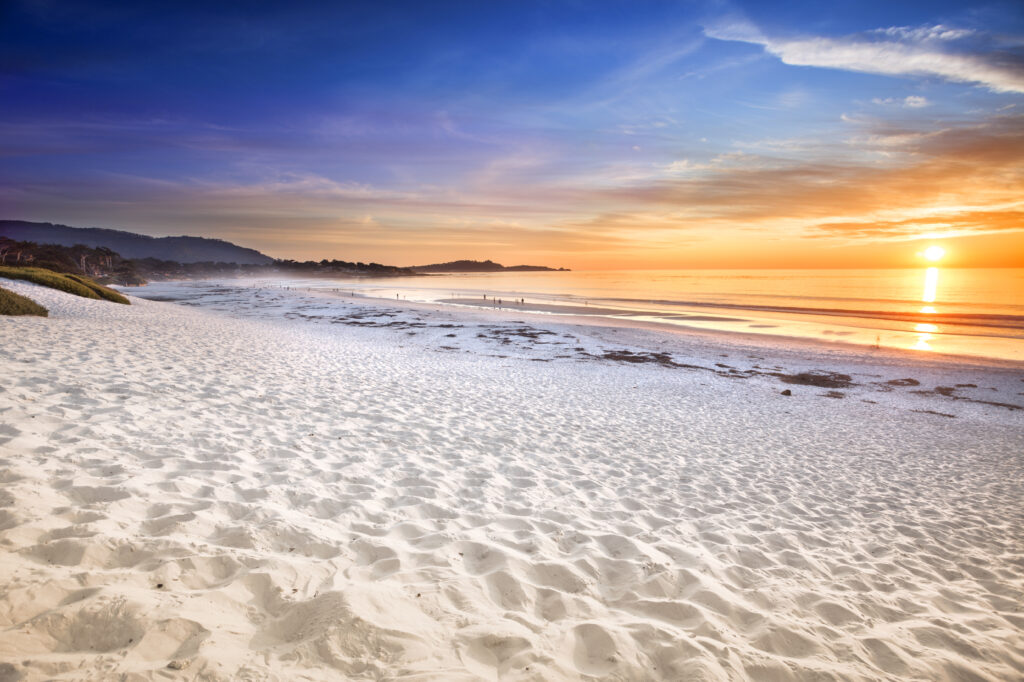 Things To Do

The Monterey coast offers travelers a wide variety of activities and a generally slower pace.

The first thing Amanda and Thomas advise travelers to do is hike on the plethora of trails along the coast.

Amanda, who is an outdoor enthusiast, loves taking their friends hiking in Big Sur. They typically like ending hikes with guests by dipping their feet in the river at River Inn while enjoying a cocktail, they said.

They also enjoy taking guests for a morning walk along the Carmel Beach and going to brunch at Stationæry, enjoying an afternoon cocktail at Terry's Lounge at the Cypress Inn, or taking them on a backward drive along 17-Mile Drive.

The drive up the coast takes people from Carmel through Pebble Beach to the Monterey Bay Aquarium at the end of Cannery Row.

"That's one of my favorites," Amanda said.

The aquarium reopens to the public May 15. Visitors will have to make reservations online and follow COVID-19 safety rules.

"We couldn't be more thrilled to reopen our doors and welcome visitors, including the LGBTQ community, once again," Cynthia Vernon, a lesbian who is the aquarium's chief operating officer, told the The Settle Lesbian in a statement.

"From the incredible diversity of the Kelp Forest exhibit to playful otters and penguins, to learning about ways to protect our ocean, the Monterey Bay Aquarium is a really remarkable, fun place — and it's a place for everybody," she said.

Blue Water Ventures lesbian naturalist and tour guide Kim Powell, who lives up the coast in Santa Cruz, enjoys taking guests out onto the water in small groups kayaking, snorkeling, and whale watching to observe nature up close.

The pandemic gave Kim time to explore and to get locals out into the natural wonders of the Santa Cruz and Monterey Bay areas, she told the The Settle Lesbian.

"It has been a year of great appreciation for what's in my backyard," Kim said. "I've always loved it here," but the pandemic made her "love of this area even more."

"Monterey Bay is a spectacular place to be whale watching," said Kim, but one of her favorite places is at Elkhorn Slough at Moss Landing, just about a 25-minute drive from Carmel and Monterey.

During the late spring and summer, she takes guests — all-women and mixed groups — on guided sunset, full moon, and bioluminescent kayaking tours at Elkhorn Slough. At night, guests can see the bioluminescence plankton glow as their paddles move through the water sparking the algal blooms to light up.

Kim is leading smaller groups due to the pandemic and follows safety guidelines.

Other tours that are less outdoorsy, but still adventurous, are the coastal ride on Mad Dogs & Englishmen E-Bikes bike tour and the Land Rover Experience at the Quail Lodge.

Riding along the Carmel coast, I took in the scenery on a funky retro electric bike to the Carmel Mission, which is celebrating its 250th anniversary this year.

My recent trips to Carmel and the Carmel Valley were the most educational I've ever had in spite of being a Santa Cruz native and vacationing in the area throughout my life.

During my last trip, I learned the history that shaped Carmel into the charming village it became during the 20th century thanks to tour guide Gael Gallagher. The owner of Gael Gallagher's Carmel Walks, she told stories and interesting details and facts about Carmel that were just as charming as the town itself while leading our small group through narrow passageways around the quaint seaside village.

Gay tour guide Evan Oakes, owner of AG Venture Tours, provides a variety of guided experiences, from taking guests out into Monterey's farms and vineyards to walking tours, like the Carmel Valley Village Wine Walk and Monterey History Walk.

One of the best things about Carmel is its walkability, making it easy to eat, drink, and shop. One of my favorites is the self-guided Carmel Wine Walk. Some other wineries in the area are Scheid Vineyards Tasting Room in Carmel and Folktale Winery & Vineyards and Joyce Wine Company in the Carmel Valley.

I also suggest stopping in at Folktale Provisions, the winery's newest marketplace, and at the Cheese Shop at Carmel Plaza for tasty souvenirs to bring home and share with your friends.

Places To Stay

Nearly every accommodation in the Carmel-Monterey area welcomes dogs to stay and gives them treats. The ones mentioned here are open, but check for any restrictions.

Golf enthusiasts can stay at the Quail Lodge and Golf Club in the Carmel Valley. The resort offers guests a comfortable relaxed country atmosphere in spacious rooms that frame a pristine 18-hole golf course. It also has a nine-hole putting course near the main lodge, at which my girlfriend and I enjoyed competitive summertime games as guests of the lodge.

The lodge hosts the Peninsula's annual Motorsports Gathering, showcasing vintage to cutting-edge cars and motorcycles. Last year's event was canceled due to the pandemic, but look for it August 13.

The resort is the gateway to some of the area's wineries and is located between the Carmel Valley Village, which hosts a variety of wine tasting rooms. It is only a 10-minute drive from Carmel and Monterey's wharf and famed Cannery Row.

Whenever my girlfriend and I venture to Monterey, one of the places we like to stay at is the Portola Hotel and Spa. Perched on the edge of historic Old Fisherman's Wharf at the end of downtown Monterey, guests get the full experience of staying right on the sea.

The hotel recently underwent a multimillion-dollar room renovation featuring coastal inspired accommodations with modern, timeless interiors and upgraded amenities.

Downtown Monterey, Cannery Row, and the wharf are also all easily walkable from the hotel. (Cannery Row is a longer walk along a waterfront path.)

Where To Eat

For restaurants, check online to see what is available. Some continue to offer to-go options, while others have reduced in-person dining capacity. Reservations are suggested.

Delightful dinners can be found at Grasings, Mission Ranch Restaurant, the Whaling Station, Little Napoli, or Seventh & Dolores.

Taking a break from outdoor activities and wine tasting in Carmel, I suggest stopping in for a refreshing craft brew at the Alvarado Street Brewery & Bistro at the Carmel Plaza.

Breakfast and brunch are my jam. If you do too, you will love locally beloved breakfast spots, the Wild Plum Cafe, Katy's Place, and The Village Corner.

New favorites added to my list recently include farm-to-table Stationæry and the new L'Aubette Belgian Bakery, which serves traditional Belgian waffles and other treats.
Originally published by the Bay Area Reporter.